Please scroll down for PhotoHunt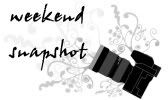 I haven't been anywhere or done anything interesting again this weekend. The weather was nice yesterday, my camera batteries were all fully charged - but I felt awful. In fact, I spent most of the day in bed, asleep. As regular readers of this blog know, I have a few health problems, one of them being chronic fatigue syndrome, also known as ME. For some reason, it's flared up a little bit lately, so I usually listen to my body when that happens, and rest. I feel a little bit more lively today, but I'm still going to take it easy, because I hope to get out and about with my camera tomorrow. So, because my weekend has been so uneventful, I thought I'd make this Weekend Snapshot all about my plans for Monday.
The weather forecast looks good for tomorrow. I'll need to be up bright and early, as I need to take my travel sickness pills after breakfast, and at least two hours before I travel. I'll be dressing up nice and warm, packing a flask of hot soup, my camera, batteries, phone and other essentials, before hopping on a bus to the nearby Gower Peninsula. Here are some of the sights I hope to see:
I doubt I'll have the energy tomorrow to walk far enough to capture a shot of Worm's Head from this angle. When I've posted pics of the Worm in the past, people have asked me why it's called Worm's Head. The name is believed to come from the old Viking name for it, Wurme, which means 'dragon'.
Sadly, these lovely flowers won't be around tomorrow, as they don't bloom until April or May.
The last time I walked along the lane in the above pic, I came face to face with a big, orange billy-goat. Needless to say, I turned around and fled.
No need to run away from this harmless creature, though.
I'm determined to get as far as this point tomorrow, however tired I feel. I just hope the walk doesn't leave me feeling like this:
Oh well, that's all for this week. Hope everyone's enjoying their weekend.