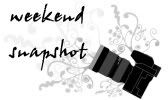 I thought I'd give the Weekend Snapshot a go. Sunday is usually a very quiet day for this blog, so I thought I'd jazz it up a bit. Actually,
Sun
day is somewhat of a misnomer today. It has done nothing but rain all day, and for goodness knows how many days and weeks beforehand. Every rare sunny weekend we've had in the last few months - I've been too busy with other things to get out and about and enjoy it. Here's a place I love to visit, on a sunny weekend - Rhossili (pronounced Ross-silly), on the Gower Peninsula, about 15 miles or so from where I live.
The first good view of the four-mile long beach, comes just past the Worm's Head Hotel. It's not an easy beach to get to if you have any kind of health problems. It's a very steep climb back up from there, even with a path and lots of steps. I prefer to look out across the beach from this vantage point.
The path that meanders along the cliffs is easy enough for most people to follow, with only one or two mild slopes. It's not unusual to encounter para-gliders or rock-climbers along the way. Sheep frequently graze the cliffs. It helps to keep the grass nice and trim. Just watch out for the mountains of sheep poop.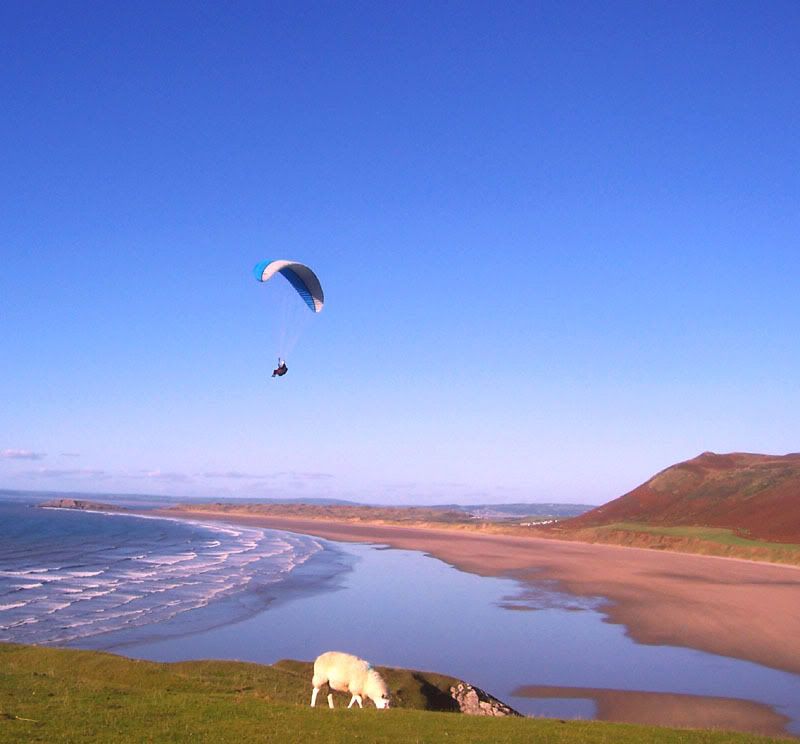 Following the path gives you fabulous views of the tidal island of Worm's Head. At low tide, it's attached to the mainland by a rocky, slippery causeway, which can be traversed with a little care. As the causeway is only open for an hour or two either side of low tide, anyone intending to cross to the island needs to be aware of tide times. Volunteers at the Coastwatch hut, just above the path leading to the shore, will be more than happy to provide this information.
If it's a nice, busy summer weekend, I like to walk past the Worm, as we locals call it, and follow the coastline around to the next bay. I don't do this during the winter, unless I have someone with me, as it can be quite an isolated spot outside the main tourist season.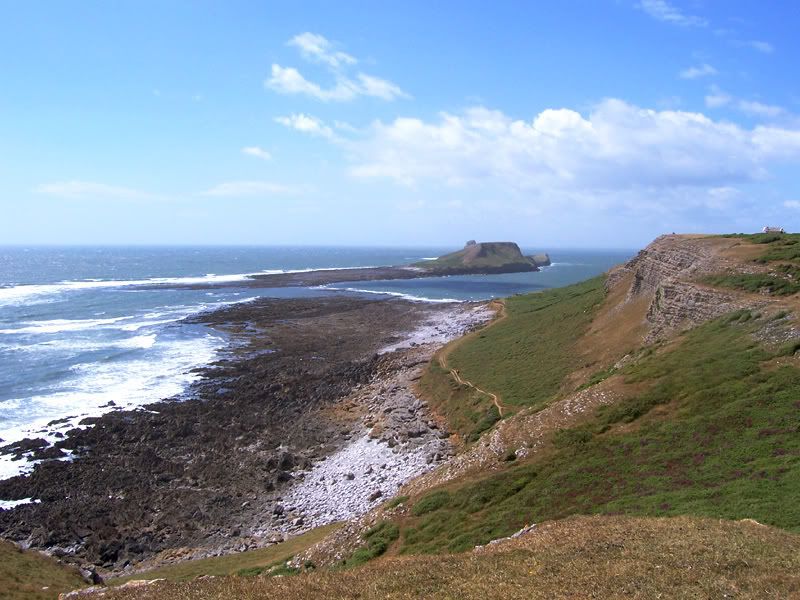 Here's my final destination on such a weekend walk - Fall Bay.
When I get the chance to visit this spot, I like to sit on this dramatic headland, which I believe is called Tear's Point, and look down on Fall Bay.


Hopefully, the rain will clear up soon, and I'll be able to bring you some new weekend pics, rather than these recycled ones. Happy Sunday!