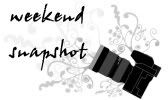 Time for me to offer you my
Weekend Snapshot
again. I'm afraid it's yet another weekend washout. It's rained almost continuously - and I'm not talking dainty little showers, either. The rain's so heavy, that not even my Leo will venture outside, and he's not normally bothered by the rain. I shot these videos of him sitting on my roof in the rain, a few weeks ago.
So I'm afraid, yet again, I have no interesting images of any weekend activities. You can thank the lovely British weather for that! But rather than waste too much time moaning about the weather, I've been busy working on my new website, messing about with CSS and other things I don't really understand too well. I'm quite pleased with the basic template I've come up with. Here are a couple of screen shots:
Anyway, yet another boring weekend stuck at home for me. Never mind. Hopefully, next weekend will be better.