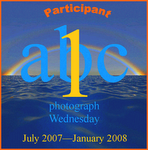 FIRST of all, my apologies for not getting around as many ABC posts as I would have liked to last week. Things went a little awry with my blogging, for various reasons. But I will make extra effort to visit as many other ABC-ers as possible this week.
This first image is of a rose, which I think is of the FLORIBUNDA type, although I could be wrong. I wanted to get a better shot of it than this, but some drunken FOOL shouted abuse at me from the holiday cottage it was outside, and accused me of being a secret agent and a spy who was out to get him. My immediate reaction was to FLEE in FEAR as he sounded quite deranged!
Here's a FROG I met a while ago, as it sat on my FRONT doorstep. My next-door neighbour is FRIGHTENED to death of FROGS, but I'm quite a FAN of the little amphibious ones.
Here's a rather FIERY and FEARSOME sight - my FIRETHORN bush, also known as pyracantha, absolutely laden with berries. It looks pretty, but has the most vicious thorns ever. Although the FIRETHORN looked FABULOUS, the rest of the garden looked rather FRAZZLED. Due to my health problems, I'd rather neglected the place, as you can see by the FIELD bindweed and FERNS romping through my poor FIRETHORN.
Anyway, there are my F pics. Oh, okay, you've heard and seen enough. I guess I'll just F off :). Happy Wednesday!