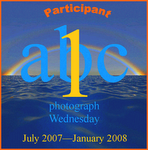 A is for ... Astronomy
I've decided to give ABC Wednesday a go, after seeing that
Dragonstar
has taken the plunge. I discovered ABC Wednesday a few weeks ago, but didn't join as it was almost at the end of the alphabet. Well, today, it's starting from A again. If you want to find out more about ABC Wednesday, just click the above graphic, to visit the host.
So what does my pic have to do with astronomy?
It shows Swansea Observatory, which stands just above the beach, in the Maritime Quarter, or Swansea Marina, as it's more commonly known. I like the way it kind of looks like a space rocket with a booster strapped to it. Happy Wednesday!