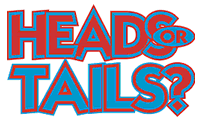 Through one thing or another, I didn't participate in last week's
Heads or Tails Tuesday
, but I'm back this week! Here are ten things about my demon kitty, Leo. Don't let the angelic face fool you. Look at the eyes - it's all in the eyes!
Okay, here we go:
Ten things about my Leo
1. He bites, and has been known to draw blood whilst doing so. I think he may be a vampire.
2. He's a bully. He torments my other cat, Liberty, and she's an old girl of 14, with renal disease.
3. He's a glutton. He eats several meals a day, as well as stealing Liberty's renal diet. If I don't give in to his demands for food, see #1, and you'll get an idea of what he'll do to me.
4. He's a thief. He steals food from unsuspecting humans whether he wants it or not. His favourite trick is flipping cookies off a plate.
5. He stalks small children. Think I'm kidding? I've caught him stalking some of the toddlers who live on my street on many an occasion.
6. He once arrived home with a beautiful orange canary he'd murdered. I've since discovered that my neighbours keep canaries.
7. He growls in his sleep. Not just a little bit. He sounds like an enraged pitbull.
8. I have to hide my fruit bowl in a cupboard, because he claws and bites my fruit. Bananas are good for sharpening claws on. Apples are fun to claw, because they ooze and turn brown. But he especially likes clawing grapes, flipping them out of the bowl and chasing them around.
9. He wakes me up countless times each night, demanding to be let in and out. If I ignore him, he climbs on the roof next to the bedroom window, and howls.
1o. I had to seal up the cat flap because he kept bringing prey into the house, not all of it dead. I once had to call the local council's pest control department to come and remove a huge rat that he'd brought home with him, which decided to follow me all over the house, chattering to me, until the pest control man arrived. Yuck.