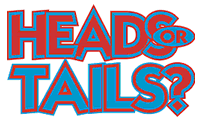 I've not done Heads or Tails for the last few weeks, so it's time I got my finger out and joined in. This week's theme is Heads: anything starting with 'P'. I'm going to talk about the paranormal.
Regular readers of this blog will know I'm very interested in paranormal phenomena. Despite having had a number of experiences which appeared to have a paranormal origin, I'm one of the hardest people to convince, when it comes to reports of ghosts, aliens, UFOs, etc. Why? In a nutshell, another 'P' - people.
I find that people who claim paranormal experiences are often mistaken, deluded, gullible, unbalanced or just plain fraudulent. I admit that I could be very mistaken about the origins of my own 'paranormal' experiences. That said, when you have an apparition of an unknown woman materializing right in front of you, dressed as a WW2 land-girl, as I did, how do you explain that? Hallucination? Insanity? Or a paranormal entity?
What interests me, are not the 'I was abducted by aliens, flown to Venus and anally probed by an extraterrestrial aardvark' stories. Or the 'I hear funny noises in my water pipes, so I must have a poltergeist' tales. Most so-called ghost or UFO sightings generally have a rational explanation based in the real world. Usually, about 95% of such cases can be explained. What interests me, are the 5% or so of cases which no-one can explain. Pilot sightings of UFOs really grab my attention, as do sightings by police officers, military personnel and other witnesses with exceptional observational skills and cool heads. Ghost stories related by reliable witnesses also get my attention.
With the paranormal, the best approach is to keep an open mind, but be constantly aware of another 'P' - the pitfalls. Don't take anything at face value, not even a photograph (yet another 'P'), as they can be easily faked nowadays. Always look for rational explanations for sightings of apparently paranormal phenomena. People make mistakes, people suffer illnesses which cause delusions or hallucinations, and people lie, either for money, attention, or for the sheer hell of it. Approach the paranormal with a healthy dose of scepticism, but don't close your mind off to something, just because it sounds bizarre or impossible. Above all, don't get hung up on it, because that can make you ill.
Anyway, I've run out of steam, so there endeth this week's Heads or Tails. I'll be starting my visits sometime this afternoon, UK time. Have a great week!