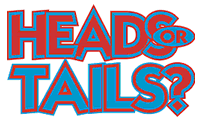 I wasn't going to participate in today's
Heads or Tails
Tuesday. Stack? I thought. What the heck can I do with that? In desperation, I started looking through some old pics. I came across one I took of an old chimney stack, at a former industrial site in the upper Swansea Valley, south-west Wales, a few miles from my home. I don't remember exactly where this is - somewhere near Pontardawe. Glantawe? Glanrhyd? Although I know it's the remains of an old industry, and suspect it's associated with one of the metal industries (copper? tin?), I know nothing of its history. I think the area is used as a recreational area nowadays.
Then, I thought of Stack Rocks in Pembrokeshire, on the west coast of Wales. The rocks are also known as Elegug Stacks. Elegug (pronounced el-egg-igg) is Welsh for guillemot, which is most apt, as the Stacks are a valuable breeding ground for sea birds, including thousands of guillemots, razor-bills, fulmar, kittiwake, herring gulls and black-backed gulls. St Govan's Chapel can be found nearby. This ancient hermitage dates mainly from the 13th century, but parts of it are from the 6th century.
I found myself wondering if there were any other Welsh landmarks associated with the word 'stack'. I remembered that Stack Rocks isn't too far away from the very scenic Stackpole, also in Pembrokeshire. Stackpole is close to the famous Bosherston Lily Ponds, and sharp-eyed visitors will also detect the remains of Bronze and Iron Age settlements nearby.
geiza_dobashi
-
Creative Commons
The only other Welsh landmark with associated with 'stack' that I can think of, is South Stack lighthouse, off the North Wales coast. The lighthouse is perched on a tiny islet known as South Stack Rock, close to Holyhead Island. There has been a lighthouse on this spot since 1809.
Stu Worral
-
Creative Commons
I'm quite surprised by where today's Heads or Tails Tuesday has taken me - practically the whole length of Wales, with a little history thrown in for good measure. Funny how a single word can take you on an unexpected journey, isn't it?